Tagged by farrah izyan
7:27 pm
I was tagged by my friend, farrah izyan.

1. Do you think you're hot?
oh definitely yess!

2. Upload your fave picture of you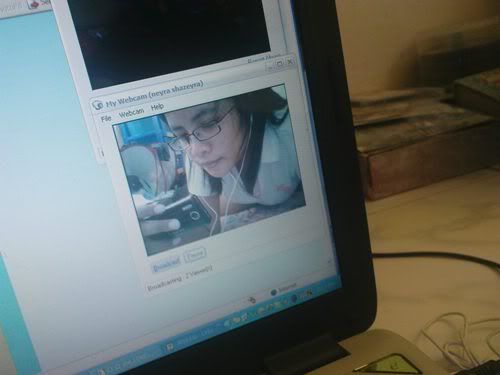 3. Why do you like that picture?
it's really artistic? oh no. i juz like it. and i wuz chatting with my sygg wen da picture wuz taken.

4. When was the last time you ate pizza?
da lama gile dowh! oh i love pizza! sapa2 mau belanja?

5. The last song you listen to?
secondhand serenade - fall for you.. "But hold your breathe..because tonight will be the night that I will fall for you"

6. What are you doing right now besides this?
doing my last assignment..MID!!

7. What name you prefer besides yours?
balkish.? ntah nape and ntah sape pnya nama. haha

People to tag:

anne
vujie
farina
neorul
yamakasi

8. Who is number one?
kakak yg sudah hilang. kak, why i cant view ur blog hah.?

9. Number three is having relationship with?
with her bf and bff kowt. haha

10. Say something about number five?
die comell!!

11. How about number four?
my friend

12. Who is number two?
budak gila kamera..!!