tiada tajuk. suka suki.
5:43 pm
tiada tajuk. suka suki sahaja. bukan suki oiam itu ok? bosan. penat. macam biasa, aku masih rasa tak cukup tdo. hahaha. keje banyak. assignment2.

aduh. lagi tertekan pasal blog ni. layout aku mengong semalam. maka, terpaksa muncul dengan layout baru yang tersangat simple dan buruk. tak sempat nak cari lagi. yang ni pon ape yang ade dalam pendrive aku je.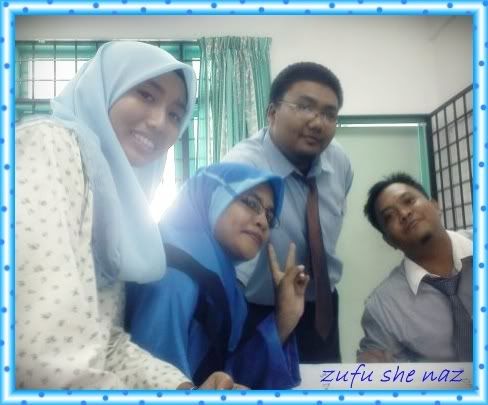 zufu she naz? apakah itu? nama apek cina jual ikan kah? no no no. tiada kena mengena. itu
yamakasi
yang bagi nama. untuk group kitorang present BIT semalam. zul, fuad, sheera and nazlina. haha. yamakasi pon dah mcm cekgu ja semalam. lagi handal daripada cekgu baru kami. welcome to HND 4 (2) ya en.hafiz. kelas ini memang sewel + sengal sedikit. :)
zhang zi yi. nama baru aku. (
okayh fine! sila muntah beramai2 di longkang berhampiran anda
) ceth! aku bukan
perah santan
perasan okayhh? miss xxx yang berkata begitu. ini semua gara-gara cik botak yang bagi nama aku begitu. jaga kau botak. aku sembelih ko nanty. akan aku jadi kau korban thaipussam. grrr...
commercial break:
oh kepada sesiapa; mahu beli perfume? one drop perfume by egyptian portion. hehe. mahu beli sila drop msg oke. price? rm 40 - 50 okayyh.
oh tataw nak bebel ape lg. baru ni tgk bride wars. sangat seronok. korangg tgk la. best dowh! sila lah download citer itu. selamat menonton. hahaha. miss xxx, nanty kita rebut2 sape kawen paling havoc ok! bride wars 2. haha.. so ta payah la kita buat puaka niyang
rempit
rapik 2.
ok kelas dah abis. mahu stop menulis. ish dalam kelas pon mahu blogging. contohi lah aku. hahaha.... noktah.