Rombongan Sekolah??
9:00 pm

Rombongan sekolah kelas. Itu tajuk yang sepatutunya. Setelah tamat kelas pada hari khamis yang lepas, aku dan rakan2 ku dah plan nk ke Arkib Negara. Janji kul 1.30pm berkumpul di kedai Haslinda. Then Mizi and Anep dtg amek kitorang. Wah ramai sungguh. 2 kete avanza untuk ke Arkib. Then, kami stop jap kat Petronas. Konon2 nak kuar duit, sekali tgk machine rosak lak. Ish2…so kami decide utk ke arkib je terus sbb masa tak ckup dah ni.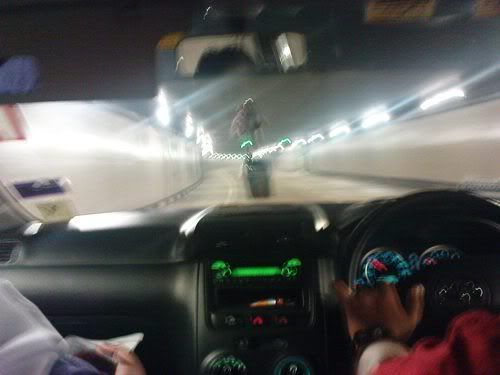 Anep sedang memandu di dalam terowong SMART


Aku naik kete ngan Anep. Di terowong SMART, kekecohan telah berlaku. Salah jalan. Haha… rupa2nya..farah taw jalan tp dah sesat br nak bgtaw. Ape2 pun farah lah penyelamat dunia aritu.





Tiba di arkib kul 3.30pm. kelam kabut g daftar. Ouh! Library tutup kul 4.30pm.. sempat kew ni?? Sempat punya lah..dah abes segala kerja2 dlm tu, kitorg wat sesi bergambar lak kat luar arkib.

Gurls in HND 3

Gila kamera betul lah. Ye lah. Dtg kali pertama dan akhir kan?? Mestilah kena amek gmbr. Kenangan lah konon nye.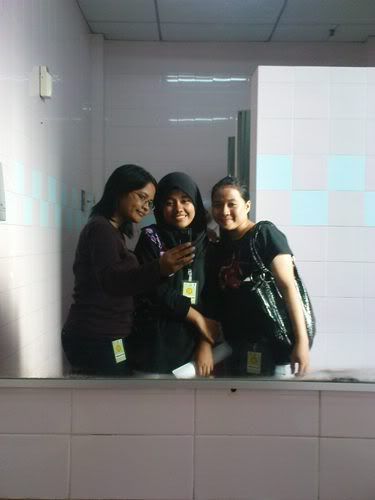 cermin besar!

Setelah puas mencapap, kitorang pon gerak balik. Tapi stop kat The Mall lak. Makan tyme!! Lapar lah.


Kat The Mall, mula2 decide nak mkn McD, then tkr plak KFC. Uh mmg happening mkn ramai2. Mcm KFC tu kitorang pnya. Mmg tak sangka akram pandai buat lawak and kak pura berjaya diculik oleh kami keluar dr hostel. Dah puas melantak, amek gmbr kat dlm The Mall lak?? Itu sudah pasti lah. Dah kata pun rombongan sekolah kelas. oh ya. thanks kak dida utk hadiah birthday itu. Then masa untuk bergerak pulang.