February Life Begin.
9:28 pm
FEBRUARY life.
salam february. bukan lagi january. kamus hidup january ku sudah ditutup 3 hari lepas. cukup sudah lelaki durjana itu menyeksa batin ku. whathefak aku mapek ni? yeah, betul cakap paan yang January is sucks bebeh!
kesian paan kehilangan kekasih terchenta yang beroda dua itu di saat penghujung january menutup tirai. aku pulak kehilangan makhluk tuhan berkaki dua yang durjana itu di awal february yang baru membuka tirai langsirnya. takpe, HIDUP BERANI UNTUK GAGAL, remember?

ahhh! aku tak menyesal dah sekarang. thanks to all my
twitter friends mention tweet korang yang sampai 50 tweet tuh tidak mampu ku balas. hanya ucapan terima kasih diberi. aku sayang korang semua and yeah, only ALLAH knows the truth.

sudah mapek tak tentu hala macam nak jadi drama queen. kang aku menangis, tak pasal2 si adi, ein, acap, miyul, wonojo dan lain2 jadi mangsa dengar aku melalak kat telefon. sian korang panas telinga kan? tujuan utama nak update entry tertunggak.

selepas wedding abg saiful dan kak dina sabtu lepas, ahadnya aku ke KL. yeah, semangat gila pergi wedding kak ara dan abg myn di dengkil, selangor. sampai sesat pening cari rumah, pukul 3pm baru sampai saa. wah sangat oren menyilau2 tema kaler wedding mereka. fuh rindu gila kak ara. mcm lama sangat tak jumpa. rasa nak peluk cium culik dia dari abg myn je. i love you, kak ara!

tetttt tetttt ...

... lampu otomen kat dada dah berkelip menandakan kemalasan meneruskan taipan jari jemari ku disini. so, korang pegi tengok gambar je lah yeh. sila pakai gogle untuk mengelakkan kesilauan sinar oren yang terlampau.



control cun sikit. hahahaha.
ayah ku meng-candid pitcha ku.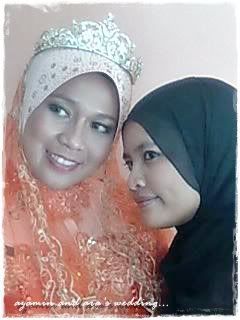 aishh pandang camera lain sebenarnya masa ni.




tengok tuh pandang lain lagi. again and again. haha.




memang semua penat pandang camera banyak2.




okeh berada di posisi yang sempurna dan aku pendek.




yang ni lagi sempurna woot! aku suka.
thanks abg cameraman yang kacak itu.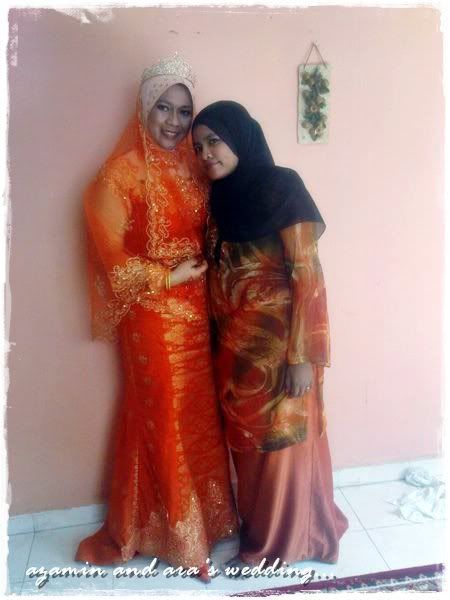 oh gemoknya kami. sue pasti suka.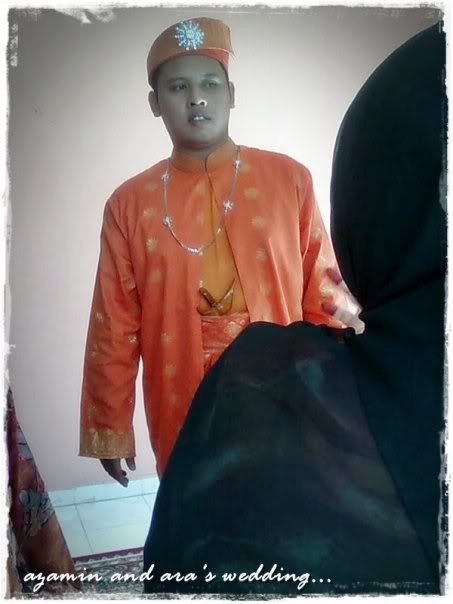 abg myn gagah perkasa.
senyum lah sikit woot!




dari ku untuk mereka.
mengikut tema betul lah.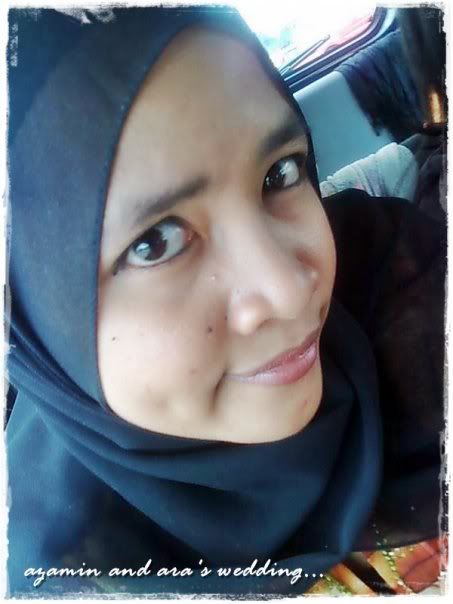 new life begin. hahaha. tetibe jek.