JOM BALIK KAMPUNG!
12:23 am
hish... rasa macam lama gila tinggalkan belog sampai penuh sawang sana sini. cbox juga dipenuhi dengan segala bagai message. comment juga hanya dibaca tanpa sempat meng-reply. busy dowh! lagi-lagi tak boleh online di ceruk hutan beranang disebabkan berukband yang macam vavi jek perangai.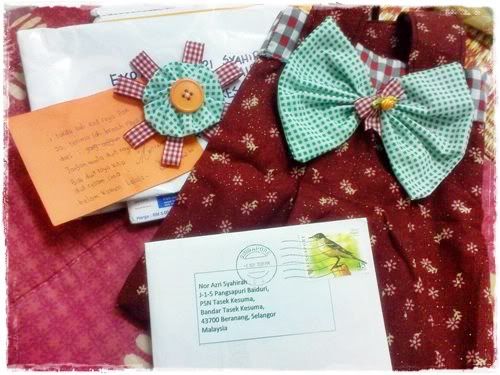 beberapa hari lepas, dapat 1st hari raya card from cik tulang ikan. kad raya sekeping tulis crayon? boleh lah tuh. comel jugak. anggun macam tuan nya kan? lagi teruja sebab ada handmade bag hasil kreativiti tangan halus mulus cik tulang ikan. then, dapat pulak pin ribbon yang beliau buat. ces! aku puji melambung-lambung nanti cik tulang ikan kembang macam ikan buntal pula. then, dapat kad raya jauhhhhh dari perantauan. singapore je kot. dari cik mala ayiee. thank youu sayang! and then kad raya ketiga dari blogger sabah,adry sabry and housemate juga beri kad raya.

fuhhh...baru dapat 4 kad?

aku hantar 40 kad kowt. hahaha.






semalam, oleh sebab aku tidak join mereka yang lain berbuka puasa bersama lecturer kesayangan, aku membawa hati yang lara ke semenyih. ke D'Tree Steak House. cewahhh macam best kan? order mix lamb chop and lime ice, kawan aku pulak order chicken chop and watermelon lychee juice. fuhh mmg sedapp giler sampai full perut. poket jek yang kosong lepas tuh. :P


and now, aku at the mall. jalan-jalan sambil blogging sementara tunggu bas pukul 5pm kat pekeliling. cuti dari hari rabu, tapi terpaksa jugak tunggu sampai hari jumaat. sebab tiket dah beli awal sangat. ciskek, kenapa kolej tak bagitahu awal-awal aku takde kelas start rabu lagi?
grrrrr....

joommmm balik kampung!