Rasanya dah lama aku tak update blog ni. Yeah. Im so… so busy. Lagipun internet di rumah agak merenk sedikit. Ye lah.. dial up jewk. Mana mampu pakai streamyx. Banyak aku nak citer ape yg terjadi but aku pendekkan je la. Aku pun malas nak taip banyak2. (memang aku pemalas!)

First of all thanx to sape2 yg rajin banget tgk blog aku neh. Thanx Juliet sbb selalu tgk blog i. errr… we really have same things in common ryte? Haha.. and thanx to farrah coz tlg edit kan sket blog aku atas sebab2 yg tak dpt di elakkan. Thanks sygg. Sorry lama tak online and belek2 blog korang!

Last Saturday aku balik kg kejap. Sbb abg ngah bising ckp tok rindu cucu2 die. (ye ke??) On the way to rompin (kg aku larh!), masa lalu di pekan… around 6.30 -7 pm lah.. aku nampak rainbow! Wah.. Lama tak tgk rainbow so aku agak excited di situ. Waktu nak senja ni view mmg chantek! Ayah stop kat pantai sbb nak tgk rainbow. And 1 more thing yg aku sgt ske… view waktu senja… chantek nye ciptaan tuhan…



pelangi yang indah.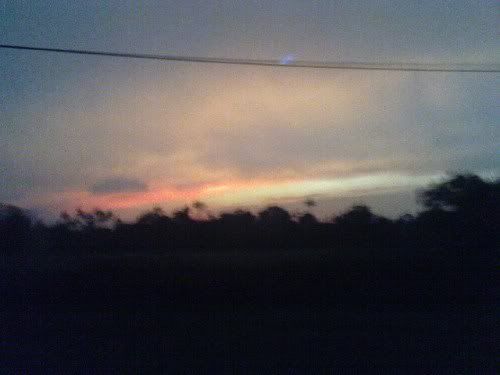 senja juga indah.

Kat kg takde ape yg terjadi pon. Melepak sampai bosan. Haha. Tp aku rindu sgt2 kat tompok dgn hitam! Yeah mana mereka…. Hahaha.. kucing tokki yg paling pelik pernah aku jumpa.. nak tau knapa? Rahsia! Haha. Yg penting, aku sayang mereka. Then before balik kuantan esoknya, ramai lak kumpul di rumah tok. Ouh! Anak abg edy dah besar larh! Comelnya mirza aqil...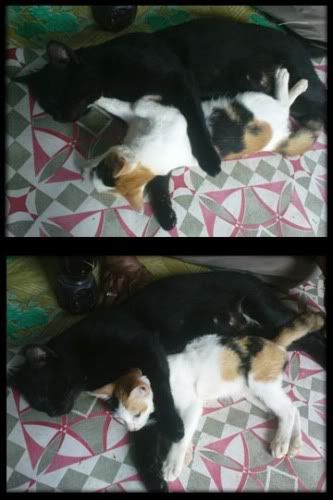 they're cute!
dalam gambar: azie, tokki, makcik norma, and aqil
Ouh dah kat kuantan semula.. aku dapat sms dari beberapa org ajak kuar. Nazib ajak jmpa, ana ajak kuar and org yg paling aku benci pun nk jmpa gak. Hurm… yg pasti dis Thursday maybe aku kuar ke megamall. Lama tak jumpa geng2 sekolah dulu. Nazib dun forget taw bawak 2 lagi makhluk tu. Haha.
Ouh euro… bila la nak abis.. selagi tak abis, aku tak dpt tidur ngan lena.. go go germany! (oleh sebab Portugal n Holland tak dpt masuk semi final..aku pon support germany lah pasni) haha…
Ouh yeah, ramai betul larh sambut birthday bulan ni. 20 june 2008 - happy birthday to cikgu math kesayangan ku. Cikgu Rusdi. Thanx cikgu sebab selalu ingat anak murid cikgu yg paling nakal ni. 22 june 2008 – happy birthday to shahbani. May allah blez u in anything u do. Sorry jauh sgt tak dpt bg hadiah. 23 june 2008 - happy birthday to Sheila Sabrina. Dah besar kamu ye… 4 tahun dah… Sorry sis lambat bg hadiah dis year. Tunggu ye my sweetheart.. Sis ngah usahakan nak bg kamu hadiah (biasa lah ngah sengkek tahap cipan ni).. Hope u r always in good health.. Sis sayang kamu forever..