happy 21st birthday, eyra and khai.
1:25 pm
first of all, thanks saya ucapkan untuk semua yang wish happy birthday untuk saya di SMS, YM, Twitter

,

Myspace

,

Friendster,

Tagged, and Facebook. thanks all! i love you guys. tanpa kamu semua, hidup ini tidak akan indah seperti ini. cewaaaah!
happy birthday juga untuk Jejaka Ini

.

moga kamu dipanjang kan umur dan sentiasa dilimpahi rezeki-Nya, wahai kembar kuh! terima kasih atas ucapan birthday untuk Gadis Ini di blog kamu. moga kamu sentiasa diberkati oleh-Nya.
happy birthday juga untuk kembar saya yang lain iaitu rakan sekolah saya, Azeyah Khiyon dan Safwan Ismail dan juga rakan Facebook saya, Wan Nuurulainza. moga kamu sentiasa diberkati oleh Allah, dan dipanjangkan umur.

thanks a lot too untuk dua makhluk di atas sebab mereka telah buat suprise terkejut untuk saya. tidak pernah kenal mereka kecuali di twitter, tapi sedaya upaya berusaha mencari ceruk hutan beranang untuk birthday saya. thanks for the orange juice and sate kajang! hahaha. korang memang best! but, next time jangan lah buat birthday girl terkontang-kanting sorang-sorang. kalau dah menghadap lappy, birthday girl pun dilupakan. teruks betul la kome ni! anyway, korang lah prince charming yang menang. siapa follow saya di twitter dan Facebook mesti tahu apa yang saya maksudkan dengan isu prince charming itu. thanks again to @anarmnetwork and @pge46!


and a lot of thanks too for my ex-boyfie a.k.a my bestie; mohd shaiful anuar. thanks a lot for the delicious nyummy steak and cheese at subway, and for the "setem" movie. thanks also sebab teman balik kuantan walaupun i know that kamu marah sangat bus tuh lambat 2 jam dan kita kehabisan battery handphone sehari suntuk! takpe, next time kita naek flight je terus macam kamu cakap. anyway, kamu tetap juga dihantar sampai depan rumah kan? delivery terus tuh. laen kali jangan banyak komen nak bebel kat birthday girl tau! lalalala. thanks darl!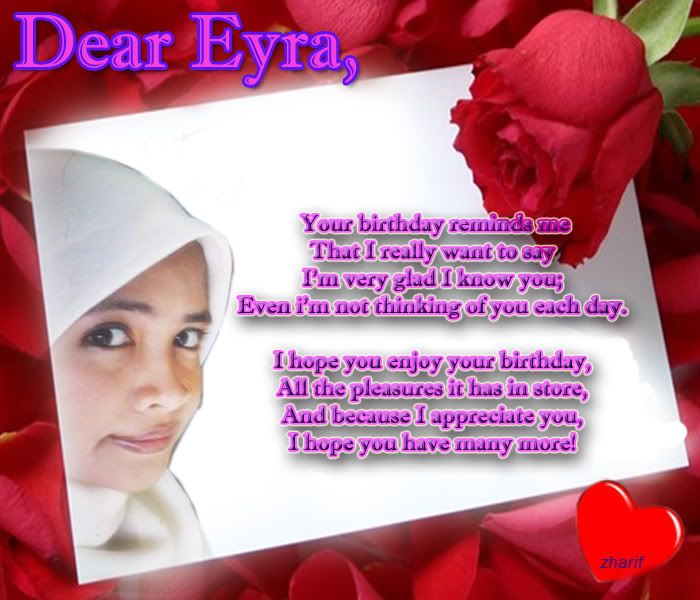 whooopps! a special thanks too for

abg zharif.

ya allah, terharu gila lah bila received that photo from you. tersentuh hati jiwa raga betul lah! hahaha. thanks! thanks! thanks! nanti jumpa at kuantan,

abg zharif

belanja kek secret recipe pulak tau! hahahaha. naseb lah dapat adek yang suka pow ni. lalalala. thanks again!

and thanks too for all the birthday gift. tapi, semua birthday gift saya tak menghadap lagi. masih mengumpul semua birthday gift yang dapat, nanti saya belek setiap satu oke? sekarang, sedang bercuti dengan riang ria di bandar kuantan. see ya next time guys! =)