can't wait for the Engagement Day.
9:54 pm
Can't wait for the Engagement Day.

saya sedang memakan puding roti

dan bersembang kosong di tetingkap YM
bersama cik liyana saari jiran sebelah rumah

yang sedang berada di UPM sekarang. fuhhh...panjang gila mukadimah entry kali ini.
*weyhh ana, ko ni cepat sangat balik
UPM pehal? ta dapat ah ikot aku date
ngan encik nuek yang belum pulang dari UTP itu.*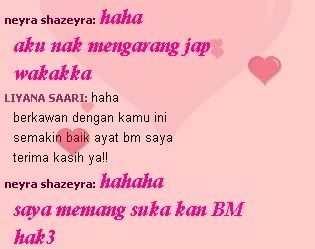 kami bersembang topik yang sama selama beberapa hari ini. cik liyana sering memuji
hasil penulisan saya.

*skema sangat ke BM aku weyhhh?? sampai tiap2 hari ko perli aku*

cik liyana berkata bahawa bahasa melayu nya semakin maju selepas membaca

laman blog ini. terima kasih banyak-banyak cik liyana. sebagai bonus tambahan, anda dikehendaki menekan-nekan ads yang disediakan di laman blog ini.
ha ha ha.


eh eh mengapa kah tajuk entry ini can't wait for the Engagement Day??

itu yang kita tidak tahu. ha ha ha. saya tidak sabar menanti 20.06.2009.
eh seperti cantik sahaja tarikh tersebut. siapakah yang mahu bertunang?

saya? atau insan lain yang terpilih? nantikan sambungan entry ini pada minggu depan. saya malas mahu update lagi tentang perihal bertunang ini.



*cis cis saja mahu membangkitkan perasaan berdebar-debar di kalangan pembaca*



coming sooonnnnn....